You know the feeling.
If you are the parent of a student with reading challenges, you've been there.
You've held your child who sobs, "I'm dumb," while you ache with frustration that the world can't see the brilliance you know is there.
You've eagerly scanned the classroom bulletin board, then stopped in your tracks when you realize that the scruffy paper with the poor handwriting belongs to your child. Your heart has broken with the realization that your child feels this spotlight of shame every day.
You've grinned at the "helpful" moms who offer up suggestions while inside you want to scream.
You've endured conferences where you've been told to "work with your child at home," as if more of what's not working will somehow make a difference (or as if some negligence on your part caused the problem in the first place).
What if it didn't have to be this way?
Imagine a world that looks like this:
Classroom teachers are given the tools and support to effectively teach all children to read.
Every student leaves the classroom each day feeling smart, empowered, and excited about school.
Children who learn differently never struggle and typical learners are able to soar.
Families do not have to choose between help for their child and basic necessities.

This is a realistic dream, and it's the dream of Kendore Cares.
Kendore Cares is a new nonprofit organization that brings the strategies and curriculum of Sy

llables Learning Center into the classroom. It's a proven system of reaching struggling readers before they struggle and of helping all children reach their fullest potential.
The consequences are too dire to ignore!
Reading forms the foundation for learning throughout life. Yet 15 to 20 percent of all school-aged children have reading problems, many of which go undiagnosed. We know that unaddressed reading issues result in dire consequences for individuals, families, and communities:
Children who cannot read proficiently by third grade are four times more likely to drop out of school.
Two-thirds of students who cannot read proficiently by the end of fourth grade will end up in jail or on welfare.
Help us provide the solution.
Maybe this cause is personal to you – perhaps you are a parent who has agonized while your child has struggled. Maybe you've been able to get your child the help they need, but you realize that not all are so fortunate. Maybe you have thought time and time again, "there's got to be a way to help my child at school in a classroom setting." Perhaps you are not personally affected by reading struggles, but you are compelled by the stories or statistics of those who are.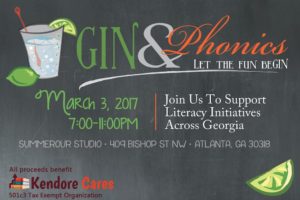 We invite you to help. Please join us on March 3rd for our inaugural event, Gin&Phonics. You will learn more about Kendore Cares, and you will be given the opportunity to make a difference. You will also experience a lively evening of fun, food, and entertainment and you will leave feeling excited about the opportunities that await all children of Georgia.