"Our individualized instruction sets Syllables apart. Before we work with any child, we get a clear picture of their specific learning issues. We then work with each student individually the way kids learn best – through hands-on, multisensory experiences. We are proud of the lifelong changes that students experience after their time with us."  – Jennifer Hasser, Syllables Learning Center Executive Director
At Syllables Learning Center, our multisensory tutoring strategies make learning fun. Come to our Metro Atlanta area center on any given day and you will see children with their fingers in shaving cream, standing as they "stretch" their muscles sounding out words, and using manipulatives to understand language and mathematics. We teach the way kids learn best! Our students receive one-on-one instruction with our extensively trained reading tutors.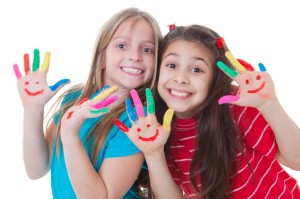 All students begin their time with us by completing a comprehensive learning assessment.  We use this assessment to tailor an intervention program specific to each child. Students are taught through a supportive approach that strengthens multisensory associations and enables the stronger channels of learning.  We actually retrain the brain to develop more efficient pathways to learning.  This improves working memory and leads to significant strides in both reading and math.
The Syllables approach to reading begins with the most frequently used sounds in the English language, and expands sequentially adding more complex elements.  Read More Here
Our math instruction uses a multisensory technique that enables the student to build their knowledge of abstract math functions while moving, seeing, hearing, and feeling the way a problem needs to be solved.  The program builds in a sequential way that fills in skill gaps in order to create an independent successful math student.
Based on Orton-Gillingham methodology, the Syllables approach is:
systematic (step-by-step)
explicit (working one element at a time)
multisensory (incorporating visual, auditory, tactile, and kinesthetic activities)
We understand the unique needs of children with dyslexia, ADHD, working memory deficits, and other learning issues. We also help typical learners who have fallen behind.
Syllables provides one-on-one reading tutoring in Alpharetta, Georgia. We also work with students worldwide via online teletherapy.