Join Me on September 18th at 6:30 pm
A Message from Executive Director Jennifer Hasser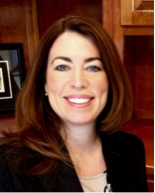 When your child struggles in school or is diagnosed with a learning disability, your role as a parent shifts. Suddenly you find yourself navigating complicated territory — struggling to become an expert in what's wrong, and sorting through the confusing web of options to help your child. It's overwhelming at best, but when you layer on worry and fear, it can be debilitating. Time and time again, I meet parents who are nearly paralyzed as they begin the process of getting their child the help they need.
As the captain of your child's team, one of your most important jobs is to determine how best to work with your child's teachers and school. The most successful parents I see are those who stay organized and manage to keep the process non-confrontational. They understand what the school can provide, and they know when they need to seek outside help.
Unfortunately, I also see parents who make costly missteps when working with teachers and administrators. Parents of children with learning issues do not have time to make mistakes.
Please join me on Tuesday, September 12th at 6:45 pm for a free workshop entitled, "Advocacy: Effectively Partnering with Your Child's Teachers and School." At the workshop, I will discuss five common mistakes I have seen parents make, and I will teach you how to avoid these pitfalls. Parents will leave the session with a better understanding of the IEP process and will be equipped to foster a constructive relationship with their child's teachers and school.
This workshop is sponsored by the Georgia Branch of the International Dyslexia Association and Understood.org.  Understood is a collaboration among nonprofit organizations with the express purpose of helping parents of children with learning and attention issues. Understood provides concrete, tangible tools and information, as well as access to experts who can help parents and children on their journey. Joseph Cortes of Understood will be at the workshop and will provide participants with a free (and very helpful) IEP Organizational Binder.
Advocacy: Effectively Partnering With Your Child's Teachers and School
Tuesday, September 18th, 6:30
Mountain View Library
3320 Sandy Plains Rd, Marietta, GA 30066
Session is free, but please RSVP