Katherine, Claire and I recently returned from a trip to Africa. We can honestly say it was one of the most impactful experiences of our lives and we are looking forward to returning. The kids we spent time with were kind, enthusiastic, fun, helpful, hardworking, and grateful. Their positive outlooks in the face of their life circumstances taught us lessons in gratitude that have forever changed our lives.
Watching the sheer joy the teen boys radiated when learning to play "Monkey in the Middle" with Claire and Katherine made me realize how much we take for granted in our everyday lives. Watch our video to hear about how one boy in particular touched my heart.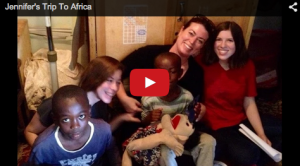 Taraja Boys Home (just outside of Nairobi, Kenya) is a social outreach program and transitional orphanage for abandoned or orphaned street boys (8-18 years) from the Kibera Slums. Fifty dollars per month sponsors one boy at Taraja, providing education at a boarding school. For only $50 a month a boy will go from a homeless child to a student at a boarding school! Fifty dollars a month provides education, accommodations, food, counseling and loving care. Yes, I know it sounds like a Sarah McLachlan song should be playing in the background, but I do a lot of volunteering/fundraising and I have never seen so little go so far!!! YOU can make a difference in the life of a young man.
Please consider sponsoring a child monthly or making a one-time donation. Theresa, the amazing organizer of this program, will assign a student to you and you may correspond with the child you sponsor. If you have children, this is an amazing opportunity to expand their world view (and practice their writing skills!).  Visit www.how101.org for more information or to make a donation.
We witnessed first-hand the difference one person can make in a child's life. Thank you for considering my request. If you have any questions let me know.
Kind regards,
Jennifer Hasser
Executive Director
Syllables Learning Center, Kendore Learning
770-752-1724