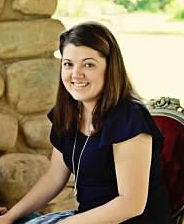 We are proud to feature work by artist Meghan Ambrose in Syllables' lobbies.  Meghan has been a member of the Syllables family for nearly ten years – serving as a tutor, associate director, and in her current capacity as graphic designer. Meghan is the creative force behind the art found on Kendore Learning card decks and curriculum materials.
Meghan's journey with dyslexia began long before her affiliation with Syllables. As a child, Meghan worked harder in school than other students, yet she often was labeled "unmotivated" and "lazy."  This continued through her freshman year of college, where once again Meghan worked harder than her peers but still struggled academically.
Notes Meghan, "A children's literature class my sophomore year was my turning point. I was asked to read aloud to the class, something I had always dreaded. After class, the professor pulled me aside and asked if I had ever been diagnosed with dyslexia." Subsequent testing revealed that Meghan was "profoundly dyslexic" and that it was remarkable that she had achieved so much without remediation or accommodations.
Always a gifted artist, Meghan changed her major to art and began to excel.  She transferred to the Atlanta College of Art, where she graduated third in her class. Meghan also pursued training in dyslexia remediation and became a reading tutor at Syllables.  "I knew I wanted to help kids like me," Meghan reflects. "I would tell students that I understood their struggles and I explained how Syllables would make a difference."
Today, Meghan combines her artistic talents with the love of teaching she developed at Syllables. When she is not at home with her son Gabriel or designing art for Syllables, she is busy teaching art to children and adults.  Meghan sells her art at local festivals and on her etsy shop, Inklings And Hues. She is also available for commissioned work. Contact Meghan at InklingsAndHues@gmail.com.