In general, high-frequency words are considered to be the most frequently occurring words in text. Students need to be able to recognize these words instantly in order to read fluently!
High-Frequency Word Facts
Only 100 words account for approximately 50% of the words in print. These words include the, of, to, was, for and if.
The most frequent 300 words make up 65% of all printed text.
Students should know the first 300 words by the 3rd grade.
Phonetic vs. Non-Phonetic "Discovery" Words
Many of the most frequent words are completely phonetic, allowing for students to decode the meaning efficiently and with ease. For example, that, with, and not are all phonetic words and can be decoded.
Other high-frequency words cannot be decoded or sounded-out. For example, of, was, and some are non-phonetic words requiring memorization. We call these words "Discovery Words" since we must "keep digging" to discover which part of the word is not saying what we expect.
Some words must temporarily be treated as non-phonetic words requiring memorization until classroom instruction covers the rules they follow. For example, the word have follows the rule that English words should not end in 'v'; therefore an 'e' is added. Most students will have to memorize have before that rule is introduced.
Most high-frequency word lists do not distinguish between phonetic and non-phonetic words. Students are required to memorize hundreds of high frequency words — even those that follow standard, decodable patterns. This can be overwhelming for any student, but it can be particularly daunting for a struggling reader or a student with dyslexia.
At Syllables and Kendore, we simplify things by dividing high-frequency words into two categories: phonetic and non-phonetic. This dramatically lessens required memorization because students who have learned phonics rules can decode phonetic words efficiently and with ease.
For non-phonetic "Discovery Words," the color red is associated with memorization so that words can be easily discernable at the time of instruction. Students will come to know that they must memorize words that are written in red. Commonly confused words like 'saw' and 'was' are not as confusing when students see the phonetic pattern in 'saw' and learn 'was' as a "Discovery Word."
Learn More By Attending Our One-Day Training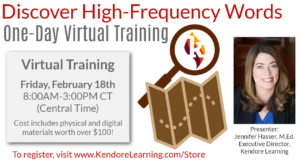 Join Jennifer Hasser, M.Ed., to learn how to teach high-frequency words (HFW) efficiently and strategically to maximize retention. By teaching our students about the different types of HFW, and by discussing word origins to anchor spelling with meaning, we can provide them with the tools they need to be fluent readers.
Register now for this fully virtual one-day workshop! A certificate of attendance will be provided to all attendees along with over $100 in materials and downloads for instruction.
Friday, February 18th 8:00am-3:00pm CT (Central Time)