Choosing the right reading material for your child can be tricky. Most experts agree that a child is reading at the appropriate level when they can decode 95% of the words on the page. Any less than that, and comprehension, fluency, and confidence suffer. If you find that your child is not able to read accurately and fluently, the book they are reading is probably too difficult.
So what do you do if you are at the library or bookstore and you need to quickly assess whether the book your child picks up is one that they can handle? Have them take the Five Finger Test!
Five Finger Test
Tell your child to open their hand and extend their fingers.
Open the book to a random page and have your child start reading.
Each time they miss a word, have them fold down one finger.
If all five fingers are down by the time they reach the end of the page, the book is too challenging.
In general, the most appropriate books will leave your child with two to three fingers remaining at the end of the page. If they can easily read all of the words on the page, the book may be too easy.
Ask yourself the following additional questions as your child is reading:
Do they understand what they are reading?
When they read aloud, do they read smoothly?
Does the topic interest them? (Remember, the goal is not only to teach your child to read, but to teach them to LOVE to read!).
Support Your Child if They Want to Read a Book That's Too Difficult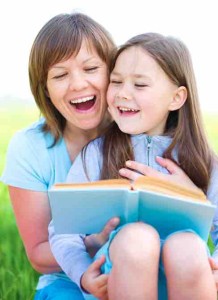 If your child picks up a book that's too difficult for them, don't despair. Read the book aloud to them or let them listen to the book in audio format. Contrary to popular belief, having a child listen to a book is not "cheating!"
When a child hears a new word read aloud their vocabulary expands and they are better equipped to decode that word when they eventually encounter it in writing (because it's a lot easier to decode a word you've heard before than one you've never encountered). Introducing new words auditorily will significantly improve your child's reading, and is particularly important in keeping struggling readers from falling further behind their peers.  Audio "reading" also enables struggling readers to stay current with the books their peers are reading and discussing.
Don't stop reading aloud to your child when they are able to begin decoding for themselves. You can read aloud with your child well into their middle school years.
Making the Most of Reading Time
One last tip — if your child is reading material that is challenging for them, rethink the bedtime routine! Many parents save nightly reading time for bedtime, when the child is tired. This is often the worst time to read independently. Encourage your child to read earlier in the day when they are fresh, or reserve nighttime reading to a book you read to them.