Syllables Learning Center is based upon the Orton-Gillingham approach, which is a framework for reading and spelling instruction. We incorporate Orton-Gillingham methodology, current research, and proven teaching methods in everything we do.
"Orton-Gillingham" refers to an approach to teaching developed in the early to mid 1900's by Samuel Torrey Orton and Anna Gillingham. It is not a specific reading and spelling curriculum.
Samuel Torrey Orton (1879 – 1948) was a pathologist who conducted brain research to determine what happens in the brains of struggling readers.  He pioneered the study of learning disabilities and introduced the concept of multisensory instruction as a method of remediating dyslexia.
Anna Gillingham (1878 – 1963) was an educator and psychologist who developed a framework for teaching reading based upon an understanding of sounds, word patterns, spelling rules, and syllable types.  Her instruction incorporated Orton's multisensory approach.
Elements of the Orton-Gillingham Approach
Curricula and tutoring using the Orton-Gillingham approach are characterized by the following essential elements:
Phonics-Based Students are taught the basics of word formation before being taught whole words.  Students are taught sounds, how the sounds relate to written symbols, and how both are sequenced to form syllables and words.
Multisensory Students are taught using all pathways to learning:  auditory, visual, tactile, and kinesthetic (movement).  Students are actively involved in their own learning.
Structured Instruction is carefully structured and directly taught.
Sequential Students learn language from the simple to the complex.
Cumulative Each piece of new learning is connected with what is already learned.
Cognitive Learning is based on an understanding of language (not just memorization) so that students learn to reason when thinking about language.
Flexible Learning is adapted to a student's needs and progresses at the student's pace.
Syllables Learning Center Uses the Orton-Gillingham Approach
At Syllables Learning Center, our one-on-one tutoring is grounded in the Orton-Gillingham approach and incorporates all Orton-Gillingham elements. Our tutors are trained to use Orton-Gillingham based modalities in every student interaction.
Syllables students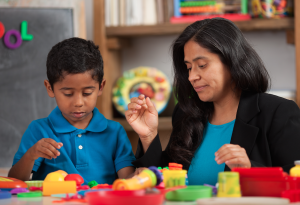 benefit from a step-by-step approach to reading and spelling that begins at the phoneme (sound) level.  Our instruction builds upon itself in a story format that students find engaging, memorable, and easy to apply. Our tutors stimulate students' visual, tactile, and kinesthetic senses through hands-on activities. We also integrate the latest research in memory and speech/language acquisition into our curriculum.
Syllables provides one-on-one Orton-Gillingham tutoring in Alpharetta, Georgia. We also work with students worldwide via video teletherapy.